LG

LFX25976ST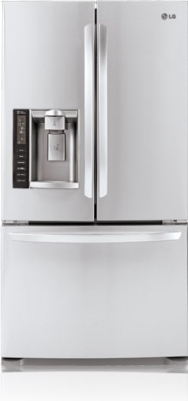 Other refrigerators that satisfy your requirements
From

$2327

—

Freestanding

—

French Door

—

26 cu. ft.

—

Stainless Steel

—

35.75 in.

—

31.75 in.

—

Undercounter

—

Energy Star
Often Compare:
Reviews
Good features for families with kids
Pristons, 01/04/2013
Experience of using: 1 year or more
Pros: Convenient features, Attractive design, Easy access, Price
French door fridges are costly and I my choice of LG depended on price level. It's spacious enough for my large family and at the same time not too much expensive. If you have kids you will appreciate dispenser, convenient door bins and door alarm. Generally it's a good unit that preserves food well.
Very good fridge but I like side-by-side more
ArDee, 12/25/2012
Experience of using: Few months
Pros: Attractive design, Quiet, Spacious, Good lights
Cons: Inconvenient drawers
Recently purchased this French door and expected it to be more convenient, but actually my side-by-side was better. Lower drawer is very wide and you can't reach to it without opening both doors. The strange thing is that another small drawer is located in the middle and also can't be opened without opening both doors. Why they didn't make it on one side? Shelves look good but also have inconvenient location. At the same time it's quite and bright. Dispenser is very good. I can't get used to freezer section either. It always takes time to locate products inside and especially tall items. In refrigerator I often put tall bottles on shelves instead of door bins.
Extended warranty
Qdoraq, 12/11/2012
Experience of using: About 6 months
Pros: Attractive design, Holds temperature well, Easy to use, Good LED light
I purchased this LG with extended warranty. It's my first time to deal with this brand and in this price I'm not sure it'll work smoothly for 10 years. For now it operates well. There is beautiful illumination inside. Ice-maker is fast enough. I like digital panel. It's very convenient. Certainly lower drawer in refrigerator is awful in regards that you have to open both doors to reach to it, but I saw same design in many French door units. So it's their common problem. I'd recommend this model.
Don't like French door
Chris11, 11/16/2012
Experience of using: Few months
Pros: Attractive design
Cons: Inconvenient shelving
My husband convinced me to buy this fridge as it has a lot of storage space. I'd never buy French door as shelves and drawers are not convenient. Next time I'll go for bottom-freezer model only with usual wide shelves.
I'd not buy it again
Suzansalmo, 10/26/2012
Experience of using: About 6 months
Pros: Attractive design, Spacious, Easy to change filter
Cons: Design flaw, Not enough cold
This LG model isn't bad, but drawers' location is extremely weird. Minimum temperature is 33 and my beer never gets cold. It looks good from outside, but interior is poor. Good that ice-maker is fast.
General Features

Freestanding

French Door

Full Size

Stainless Steel

24.7 cu. ft.

17.6 cu. ft.

7.1 cu. ft.

Dispenser

Door

Smooth

Shelves

Humidity Controlled Crispers

2

6

Control

Digital Temperature Control

Technical Details

Energy

15 A

Other Features

Automatic

Approved for Commercial Use

Standards/Ratings

Tier III

Dimensions

35.75 in.

69.75 in.

34.25 in.

31.75 in.

46.5 in.

324 lbs

377 lbs

Warranty

1 Year

Miscellaneous

048231783507
Add Review