KitchenAid

KFIS29BBMS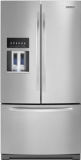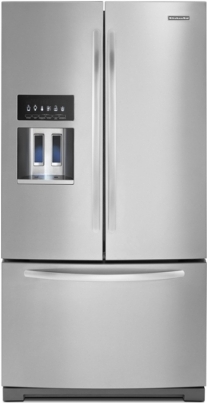 Other refrigerators that satisfy your requirements
From

$-1

—

Freestanding

—

French Door

—

27.6 cu. ft.

—

Stainless Steel

—

35.75 in.

—

35.375 in.

—

Undercounter

—

Energy Star
Often Compare:
Reviews
Costly
Esquire, 01/03/2013
Experience of using: About 6 months
Pros: Attractive design, Holds temperature well
Cons: Limited shelving options, Noisy, Price
I consider this fridge to be my mistake. My wife liked it and we bought it. I think we could buy cheaper unit of same capacity and features from other brand, as there is nothing special in this model. I don't like shelves; I'd prefer all of them to be same width without separation. For this amount of money, it's very noisy. Certainly, I can't hear it in my bedroom but it's not quiet same like other fridges. I'd not buy KitchenAid again. I'm advising to find other French door fridge in less price.
29 cu. ft. counter-depth
Bear18, 11/10/2012
Experience of using: About 6 months
Pros: Attractive design, Spacious, Quiet, Adjustable shelves
We would like to buy bigger unit, but our space doesn't let us to do so. This fridge is rather big and roomy. We changed location of shelves to make more space for tall items. Probably, same like us, you'll need some time to get used for it. It's good value for money.
Superb fridge
Esbu, 11/06/2012
Experience of using: Less than a month
Pros: Attractive design, Easy to use, quiet, Convenient features
I had top-freezer unit before and this French door is great substitution for it. Design is amazing. Materials are strong, stainless steel looks good and handles are convenient. It's very roomy, till now I never filled it full. There is enough place for tall items as well as for all types of products. I like drawers and wide shelf on which you can keep wide items.
Amazing fridge
ckmcgary, 10/13/2012
Experience of using: 1 year or more
Pros: Attractive design, Easy access, Easy to use, Convenient features
It's a great fridge. I didn't write a review before as I wanted to make sure it'll not die after 2 months. It works well more than one year without any issue. Dispenser is good and ice-maker produces enough ice. I absolutely like freezer section which is spacious and easy to access. Light is very bright. The model looks good in my kitchen due to its stainless steel finish. I have very modern kitchen. Price is suitable for its features and quality. I don't regret for anything and highly recommend this unit.
Very loud
Clarm, 09/30/2012
Experience of using: Few months
Pros: Attractive design, Easy access, Easy to use
Cons: Noisy
I'm not advising anyone to buy this fridge. It's convenient as fridge, looks good, and works well. It's extremely noisy. This is main reason why I'd not recommend it.
General Features

Architect II

Freestanding

French Door

Full Size

Stainless Steel

28.6 cu. ft.

20.9 cu. ft.

7.7 cu. ft.

Dispenser

External

Door

Smooth

Shelves

Humidity Controlled Crispers

2

4

6

Control

Digital Temperature Control

Energy

120 V

15 A

Other Features

Automatic

Approved for Commercial Use

Standards/Ratings

Dimensions

35.687 in.

70.125 in.

35.687 in.

33.187 in.

48 in.

Miscellaneous

883049258232
Add Review