Frigidaire

FPHG2399MF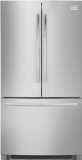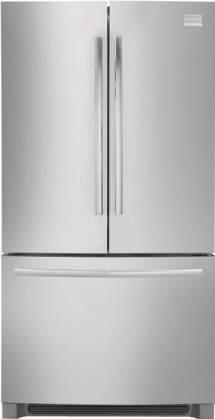 Other refrigerators that satisfy your requirements
From

$-1

—

Freestanding

—

French Door

—

24.6 cu. ft.

—

Stainless Steel

—

35.75 in.

—

30.75 in.

—

Undercounter

—

Energy Star
Often Compare:
Reviews
Second Frigidaire
dondi, 01/22/2013
Experience of using: About 6 months
Pros: Attractive design, Solid construction, Quiet, Durable
I've had experience with Frigidaire fridge before and decided to buy new model, which I didn't see in store but purchased online. It was quite a risk but I was delighted when I saw it. It looks great and I don't notice any fingerprints on stainless steel. It's roomy and I like rubber liners on shelves. Standard arrangement of shelves is very convenient. Fridge and its parts seems strong and I hope, same like with my old unit, it will serve long time. I like illumination inside as well. I think that if you need a counter depth model that will work well, don't try to save and purchase this fridge. You'll be very pleased with it.
Happy with our purchase
Evenett, 11/12/2012
Experience of using: Less than a month
Pros: Attractive design, Convenient features, Holds temperature well
We just bought this fridge and we are very happy with it. It's very roomy and we like so many drawers for different types of products. We set temperature and the unit reached to it very fast. We'll see how it will work, but at the moment we can't leave it for one minute, moving food here and there and enjoying beautiful illumination.
Very good unit with one strange feature
ydrmatos, 11/11/2012
Experience of using: Few months
Pros: Spacious, Easy to use, Convenient features, Easy access, Solid construction
Performance of this fridge is satisfactory. I like absence of water and ice dispenser as I had it before in my side-by-side which always used to get broken. The only complaint is that freezer door gets stuck. I tried to find reason of that, but till now didn't find it.
Advice
RESTES, 10/25/2012
Experience of using: Less than a month
Pros: Attractive design, Spacious, Holds temperature well, Solid construction
As a person who works in electronic appliances store, I've seen so many fridges of different brands. Recently I purchased this Frigidaire model, which is absolutely stunning. Buy American products and be satisfied with their service.
It deserves high mark
Bpruwithme, 10/18/2012
Experience of using: Few months
Pros: Spacious, Attractive design, Holds temperature well
This fridge has lovely Attractive design and good lights inside. There is much space inside and we can accommodate all our beloved foods of our large family (we are five people). It works quietly and smoothly. Looks great. I highly recommend this fridge.
First and last Frigidaire
clairebud, 10/07/2012
Experience of using: 1 year or more
Cons: poor quality
I've had ice-maker repaired twice during this time. Freezer door gets frozen and I can't open it. I think it's awful quality and I'd not buy Frigidaire again.
General Features

Professional

Freestanding

French Door

Full Size

Stainless Steel

22.6 cu. ft.

15.7 cu. ft.

6.9 cu. ft.

Gray

Dispenser

Door

Stainless Steel

Smooth

Shelves

Humidity Controlled Crispers

2

4

6

2

Control

Digital Temperature Control

Energy

120 V

15 A

Other Features

Automatic

Approved for Commercial Use

Standards/Ratings

Dimensions

36 in.

69.375 in.

28.25 in.

28.25 in.

42.562 in.

Miscellaneous

91101332091393
Add Review