Bosch

B26FT70SNS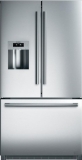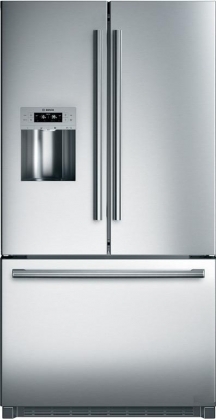 Reviews
10 reasons to buy this fridge
Clwnlove13, 01/15/2013
Experience of using: 1 year or more
Pros: Attractive design, Good illumination, Price, Convenient features, Capacious freezer
I made a list of 10 reasons why you should buy this fridge. 1. It has fantastic appearance and will decorate your kitchen. 2. Light is very good. 3. Very good price for a quality French door fridge. 4. Dispenser works well and delivers fresh tasty water. 5. It's quiet. 6. Makes a lot of ice. 7. Very spacious. 8. Freezer is roomy and easy to access. 9. User-friendly digital panel. 10. Durable service. I hope these features will convince you to purchase this model.
Disappointing
Beverlymhp, 01/15/2013
Experience of using: About 6 months
Pros: Attractive design, Quiet, Good illumination
Cons: Not enough capacity, Loud alarm
I'm upset with this purchase. My meat always gets frozen inside this fridge. Its capacity isn't sufficient. Alarm works when it wants to work and annoys me. I'm regretting that I bought it as in less money I could have purchased Samsung or LG, which I saw in my friends' home.
Bosch 25.9 cu. ft.
Arbeydiez, 01/12/2013
Experience of using: 1 year or more
Pros: Convenient features, Easy access, Easy to use, Spacious
I've used it for more than 1 year and I'm very pleased with it. Bosch is good. I had only one problem that ice-maker stopped making ice. I found solution by myself. You have to take it out and to defrost it. After you put it back it'll work. I'm sure you will never have any troubles with this great model.
You know what you pay for
Pwalkup, 12/03/2012
Experience of using: About 6 months
Pros: Quiet, Spacious, reliable, Convenient features
Bosch is Bosch. Generally I hate Maytag which we had before, but to replace it with Bosch is unbelievable feeling. You see that everything in this model is considered, every shelf and drawer. Dispenser and ice-maker work well.
Satisfactory mark
Ribguy, 11/06/2012
Experience of using: Few months
Pros: Attractive design, Quiet, Good illumination
I can't say I'm delighted. It's a good fridge with advantages and disadvantages. It has good light inside, works quietly, makes a lot of ice. Accommodates many products, bottles and cans. I don't like arrangement of shelves. It's not stainless steel because magnets still stick to it. Also sides are other color, which doesn't really look good, unless your kitchen is same dark brown color. You can make necessary settings, but you can't see temperature inside unless you take thermometer and check manually. Water line often gets frozen. To get the unit work properly, follow instructions 100%.
General Features

800

Freestanding

French Door

Full Size

Stainless Steel

25.9 cu. ft.

Gray

Dispenser

External

Door

Smooth

Shelves

Humidity Controlled Crispers

2

4

5

2

Control

Digital Temperature Control

Technical Details

Stainless Steel

Energy

115 V

15 A

Other Features

Automatic

Approved for Commercial Use

Standards/Ratings

Dimensions

35.625 in.

69.75 in.

32.468 in.

48.156 in.

Miscellaneous

825225887973
Add Review