KitchenAid

KUDE60FXSS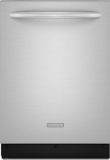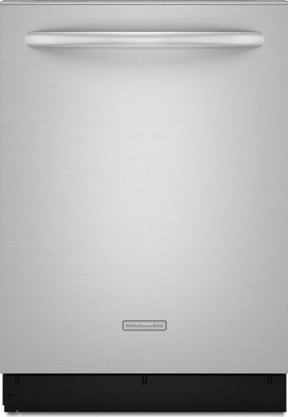 Other dishwashers that satisfy your requirements
From

$617

—

Built In

—

15 pl. s.

—

23.88 inch

—

46 dba

—

Stainless Steel
Often Compare:
Reviews
Very good product
Luvimin Ainslie, 02/13/2013
Experience of using: Few months
Pros: Energy efficient, Water efficient, Quiet, Cleans great
Cons: Long cycle
I don't think you can find more efficient dishwasher than this one. Certainly because it consumes less power and water it has longer cycle, but it's not a big deal. I like that all items come out extremely clean and dry. It's so quiet that only small lamp which is indicator in the corner will show if it's on or off. I also like Last Cycle Memory. It's a very convenient feature as most of the time I make same settings. I would recommend it for families with small kids as there is kids lock installed. I think it's a good unit for its price.
You can rely on KitchenAid
arsprinter, 01/07/2013
Experience of using: 1 year or more
Pros: Easy to load, Spacious, Reliable, Attractive design
I've owned this washer for more than 1 year. I think stainless steel tub is important. I'm very pleased with how it works. You can choose one of 6 cycles; I like Delay start feature and Fast cycle. It dries same well as it washes. This model has very user-friendly controls and spacious interior. I'm very happy with this purchase, though I never tried KitchenAid before.
Pricey
Cedandbrad, 12/15/2012
Experience of using: About 6 months
Pros: Convenient in use, Cleans well, Design, Racks
Cons: Price
My wife insisted on buying this KitchenAid dishwasher as her friend has same and she likes it so much. I don't have any claims. It works smoothly and cleans well. I would though have a look at other models with similar features as I think it's quite costly. It does have nice racks, it's easy to use and to load, but I think there are cheaper models in market. Anyway I would recommend it.
Nice dishwasher
Rnewton, 11/24/2012
Experience of using: Few months
Pros: Attractive look, Easy to use, Washes well
I trust KitchenAid and my kitchen is fully equipped with its products. This dishwasher isn't a disappointment. It's a good quality stainless steel model with nice features. Washing usually takes around one hour and then you get your dishes dry. At the same time they are not too much hot, so you can place them immediately.
Superb appliance
Solaredge, 11/19/2012
Experience of using: Few months
Pros: Stylish look, Energy efficient, Easy to use
Superba series means superb quality. This unit is really awesome. It's quiet and at the same time cleans well. I didn't feel that it's efficient yet, because I'm using it only 1,5 months, but hope it is so.
General Features

Tall Tub

Stainless Steel

Built In

14 pl. s.

Both

Superba Architect II Series

43 dBA

Cycle Features

5

7

Controls

Fully Integrated

Digital

Technical Details

3

Nylon

Tall

Stainless Steel

Energy

120 V

15 A

Tier I

Other Features

2 Fold-Down Tines

2 Fold-Down Tines

43

Dimensions

23.88 inch

24.5 inch

33.875 inch

Miscellaneous

883049195957
Add Review