Sharp

CVP12LX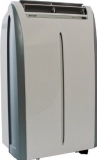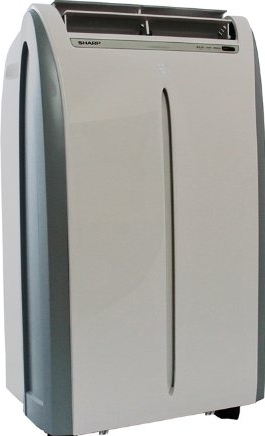 Reviews
Good choice
NickJ, 02/03/2012
Experience of using: Few months
Sharp CVP12LX is a good choice for large rooms. This particular device may be a little more expensive, than other brands' air conditioners, but this unit is really worth buying. The main exhaust hose takes humidity out of the room and, due to the fact that these appliances don't have water-tanks, you don't have to remove water regularly. This Sharp portable appliance also has the features of a dehumidifier and it can perform efficiently in the rooms, with up to 350 sq feet area.
Sharp CVP12LX is a very effective ac
Rick_d, 09/18/2011
Experience of using: Few months
Pros: effective, quiet, stylish
Cons: expensive
I bought a portable conditioner to make my bedroom comfortable to stay at hot summer nights. I read many rewiews on many units. And Sharp CVP12LX seemed to me powerful and effective, I desided that found the unit I needed. This conditioner was rather expensive versus units of other manufacturers. But it is very nice and stylish so I bought it. And I'm very pleased by this unit. It cools my room as needed. What is good it works without noise, and I easily sleep with conditioner turned on all night. And I'm very happy that unit become not only useful but beautiful and stylish fitment of my bedroom. All my friends noted it. Now I'm going to buy one more portable conditioner and I know what it will be the model. Really advice it to everyone.
Sharp CVP12LX is noisy
dnsbot, 06/22/2011
Experience of using: Less than a month
Pros: stylish and good-working
Cons: noisy
I was told that this unit is quiet. On my experience it is only quiet on low fan mode and with not working water pump. I installed this unit in the living room and it started to make much noise even louder than my TV. And it is so costly. So I decided this unit is not for me and replaced it. But I should say it works good and cools the room as was advertised.
Some unpleasant features
alex856, 06/12/2011
Experience of using: Few months
Pros: cools well, looks good
Cons: costly, heavy
Sharp CVP12LX operates well. It do the work it should-it cools. And it have a nice look. But it has some downsides. The window kit is flimsy and Sharp doesn't provide you with drainage tube. It may cause some problems for using this unit. Besides it is very heavy and not easy to move it between rooms. At last it is expensive. Because of this features I rated this conditioner only four.
Great conditioner
staff, 05/11/2011
Experience of using: Less than a month
Pros: powerful, extremely quiet, easy to use
Cons: none
This conditioner was easy to install. From the moment I turned on the unit my big room became cool. And I was surprised by its' extremely quiet work. It's a really great conditioner.
General Features

1

White

300 CFM

Energy

8.5 EER

115 V

1350 W

Other Features

2.7

4-Way

3

Technical Details

38 dB-A

Washable

Slide-Out

Dimensions

18.5

15.1

32.3

86 lb

Warranty

1 Year

Miscellaneous

074000662063
Add Review