NewAir

AC10000E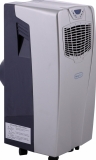 $490

Product Details:
Portable — Cooling Capacity: 10000 BTU — Air Direction — Air Flow: 176 CFM — (W) 12.2 x (D) 13.8 x (H) 28
Reviews
Air Conditioner New Air AC-10000E
Aztral, 07/21/2011
Experience of using: 1 year or more
Pros: Excellent cooling ability, portable, cheap enough
Cons: No bucket at the back making it difficult to drain
New Air AC-10000E is a 10000 BTU portable air-conditioner as is suggested by the 10000E in its name. The best feature regarding this air-conditioner is that it is not very heavy or huge as other air-conditioners are and can be fitted in smaller spaces. Other thing about this is its cooling capacity as it cools really well.
There is no bucket to drain and requires a shallow pan to be put below the drain cock for the drainage. This is a paining task and is really disturbing. It is noisy as well and does create a problem while sleeping yet this compact air-conditioner is a very economical choice for people that are looking for quality with a low budget.
AC-10000E
Kerosene, 06/09/2011
Experience of using: Few months
Pros: Excellent compact design, eliminates excess moisture through air filter
Cons: Sometimes does not cool the entire room equally
The air-conditioner is laced with some brilliant features and packs a really good punch with its excellent and compact design and structure. New Air AC-10000E is basically a portable air-conditioner which requires minimal space within your room to be setup and its installation is very easy too. Its auto evaporative technology allows for evaporation throughout and the remote is pretty useful too.
The oscillation is a bit of a problem and if you don't adjust the A.C.'s settings then it continues to cool a single place within the room and does not cool the room equally with people far from it feeling no cooling around them. Yet, its overall package is brilliant and its compact design makes it easier to make the space for it to fit within your small room.
New Air AC-10000E
yhe, 05/07/2011
Experience of using: Less than a month
Pros: Very good cooling capacity, compact in design
Cons: Very noisy when the compressor starts
New Air AC-10000E is a portable air-conditioner that comes with an auto-evaporative technology. The cooling capacity of this air-conditioner is impressive and with a good remote control it is very easy to use. There is no need to empty the water tanks of this air-conditioner due to the auto-evaporative technology which is one of the best features of this A.C. With adjustable louvers, it is able to distribute the air equally to all parts of the room too.
However, if you get disturbed by the slightest of sounds during sleep then you won't be able to sleep all that comfortably even with the brilliant cooling capacity of this air-conditioner as it makes some noise while cooling. However, it is easy to use and its compatible design makes it stand out from other air-conditioners.
General Features

1

Silver

176 CFM

Residential

Energy

11.6 EER

115 V

909 W

8.3 A

Other Features

2.1

2

Technical Details

R-410A

Carbon

Dimensions

12.2

13.8

28.0

50.6 lb

Warranty

1 Year

Miscellaneous

689076933100
Add Review