Frigidaire

FRA106CT1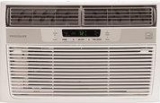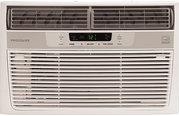 Reviews
FRA106CT
EngineerofSuccess, 08/23/2011
Experience of using: Few months
Pros: Easy to install and use and brilliant cooling capacity
Cons: Very noisy and not very attractive in design
This 1000 BTU air-conditioner is a heavy weight when it comes to its cooling capacity as it is able to really cool large rooms in a matter of minutes and along with money saving features like the sleep mode is truly beneficial. The sleep mode actually allows the A.C. to gradually increase the temperature to outside temperature till the morning and then switches off automatically.
The noise is something that is part and parcel of Frigidaire FRA106CT and its unattractive design makes it a complete misfit for a guest room. However, if your basic necessity is for an A.C. that can cool very well then this should be your first choice.
MR
OSCAR A CAMPANARIO, 05/12/2011
Experience of using: Less than a month
nice ac unit powerfull but quite. paid a great price of $215.00 after coupons and discount.can't beat that for a quality product ..
Air Conditioner Frigidaire FRA106CT
marlon, 01/23/2011
Experience of using: Few months
Pros: Brilliant sleep mode and multi-speed fan features
Cons: A bit heavy in weight, makes noise while working
Frigidaire FRA106CT is an excellent window air-conditioner and is one of the best window air-conditioner with its brilliant cooling capacity. It is able to cool rooms as large as 500 square feet with ease but there are other features as well which are outstanding like the sleep mode which allows you to sleep comfortably while it gradually increases the temperature during the night and the temperature returns to normal outside temperature till the morning.
The heaviness of this air-conditioner makes it difficult to move around and its noise is a constant irritant but such problems are over-shadowed by this energy efficient, laced with awesome features air-conditioner.
Frigidaire FRA106CT
fokerss, 01/10/2011
Experience of using: 1 year or more
Pros: Excellent dehumidifying function also bears Energy Star efficiency
Cons: Makes noise that is disturbing when it starts cooling
Frigidaire FRA106CT is basically a 10000 BTU Thru-Wall window air-conditioner developed and manufactured by Frigidaire. The best feature of this air-conditioner has to be its brilliant ability to cool even large size rooms with ease allowing for comfortable sleep even during the summer for its users. Along with that, it allows you to dehumidify the air inside your room and also saves cost with its energy star efficiency.
However, if you do not like noise while sleeping then this air-conditioner may not suit you and you should look for a noiseless air-conditioner but if you can adapt to the noise then with out-of-this-world cooling capacity of this air-conditioner makes it truly desirable.
General Features

1

289 CFM

Energy

10.8 EER

115 V

925 W

Other Features

3

8-Way

3

Technical Details

Washable

Slide-Out

Dimensions

19

21.25

14

Warranty

1 year

Miscellaneous

12505273704
Add Review