Frigidaire

FRA103BT1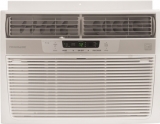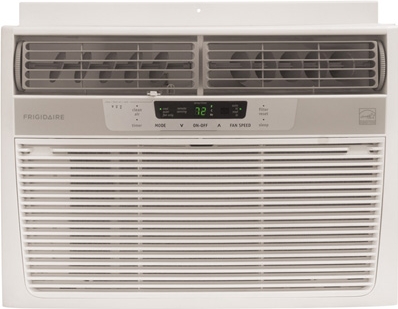 Reviews
Great device
Sanford646, 02/01/2013
Experience of using: Few months
Pros: Easy to install, Easy to use, Fast cooling, Good remote control, Powerful airflow, Quiet.
My old unit didn't work any more and I started searching for a new device. My choice was Frigidaire which was delivered the following day. I can say that at reasonable price I got a nice AC. It fit well in window and the gaps were filled with insulating foam. This unit cools well two rooms and often I have to reduce fan speed because it works really great and cools within short period of time. You can hear it of course but it's very quiet compared to other devices. During hot summer it helped us a lot. Though I hope it will not break soon, if I had to buy a new one, I would buy same model.
best unit
Diah, 12/03/2012
Experience of using: Few months
Pros: Accurate temperature controls, Cools the whole room.
My apartment is 700 sq. ft. and this unit keeps it cool all the time. You can switch it to energy-efficient mode and save your expenses. Sometimes it seems noisy and can disturb when I'm watching TV. But generally it's not a big deal because it's very powerful and I'm happy with it. I would recommend it for my friends.
Quite good AC
93765-Van, 11/19/2012
Experience of using: Less than a month
Pros: Cools the whole room, Easy to install, Easy to use, Quiet.
Cons: Noisy.
I saw that this AC is very popular and after reading about it decided to buy one also. After it was delivered to my flat within minutes I installed it. I was really impressed that my room which is around 450 sq. ft. got cool fast. When it operates at maximum, it's quite noisy. But generally according to its price it's a perfect unit.
operates well without making noise
Valerie1748, 10/29/2012
Experience of using: About 6 months
Pros: Cools the whole room, Quiet.
Cons: Heavy.
I had other 10000 BTU units before but got tired from them and decided to try Frigidaire. Located two devices: one in kitchen and one in living room. I can confess that these ACs cool all first floor where I have also corridor and dining room. I didn't expect to be so effective. When fan works at high speed you can hear it but even though they are quieter than which I have in bedroom. Remote control is user-friendly and can work from 20 feet distance. They are heavy but not difficult to install and can be controlled by one remote. These units were quite helpful in hot summer months.
General Features

1

White

290 CFM

Commercial

Energy

9.8 EER

115 V

1020 W

9.4 A

Other Features

2.7

8-Way

3

Technical Details

R-410A

Antimicrobial

6 Ft.

Dimensions

19

19

14.5

60 lb

Warranty

1 Year

Miscellaneous

0-12505-27454-1
Add Review