Friedrich

CP06E10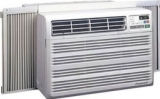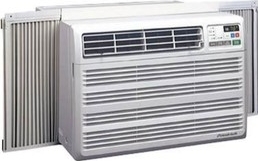 $216

Product Details:
Thru-Wall/Window — Cooling Capacity: 6000 BTU — Air Direction — Air Flow: 210 CFM — (W) 18.5 x (D) 20.63 x (H) 13.63
Reviews
CP06E10
samanthabnyc, 01/16/2011
Experience of using: Few months
Pros: Extremely quiet, excellent dehumidifying function
Cons: Difficult to install, not the best cooling capacity
Friedrich CP06E10 is a 6000 BTU Room air-conditioner. One of the best things about this air-conditioner is that it is whisper quiet which is something that is hardly found in other air-conditioners. The dehumidifying function is a treat with the air-conditioner able to clean up all the moisture from the room very easily.
It is reported that if you have vinyl windows then installing the air-conditioner can be a head-ache while it does not cool the room well as in it does not cool down the temperature of the room according to the set temperature. It is a reliable air-conditioner and if you require an air-conditioner that keeps quiet at all time then this has to be your first choice.
Friedrich CP06E10
lex142, 01/07/2011
Experience of using: 1 year or more
Pros: Even air distribution in the room, low operating costs
Cons: Truly difficult to install, comes with a poor manual
Friedrich CP06E10 is manufactured by the ever reliable company-Friedrich. It is a 6000 BTU air-conditioner with the capacity to cool small rooms easily as it has Auto Air Sweep swing louvers which actually help out in distributing the air-flow equally throughout the room. One stand-out feature has to be its money-saving feature while it is in operation as it actually switches off itself after the set temperature is reached without any notice.
It is difficult to install and the poorly written manual compounds the problems during its installation and can annoy the most patient of people but if you are capable enough of installing it yourself then this air-conditioner with its economical operating costs is recommended for smaller rooms.
General Features

1

White

210 CFM

Standart

Energy

10.7 EER

115 V

560 W

5.1 A

Other Features

1.8

4-Way

3

Technical Details

R-410A

Washable

Slide-Out

Dimensions

18.5

20.63

13.63

60 lb

Warranty

1 Year

Miscellaneous

724587425031
Add Review