Amana Front Load Washing Machines
1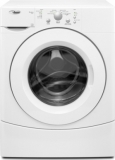 Not Available
Features:
Control Type: Digital and Knobs
Maximum Spin Speed: 1100 rpm
Type: Front Load
Capacity: 3.5 cu. ft.
Usage: Residential
Color: White
(W) 27 x (H) 36 x (D) 30.5 in.
Learn More
Pros:
Water efficient,
Cleans clothes efficiently,
Quiet,
Sleek design,
Adjustable settings
Learn more about Amana Front Load Washing Machines
One of the best ways to cut down extra costs, but not compromising the features and opportunities, is to use a front-load washing machine. This type of appliances has won the favor of the consumers and today it is more salable, than its top-load counterpart. What are the benefits? - These units are more cost-efficient and convenient; they use less power and water per load; they are rather capacious and high-end.
According to various experts and customers' reviews Amana front-load washers are among the best ones in the market. Apart from the basic options, these appliances include high-end features, which will simplify the laundering process and save your precious time. One of the main benefits of these top-loaders is neat and space-saving design, but rather capacious interior (3.5 cubic feet). These appliances can be installed under the counter, fitting flush with the rest of the interior, or left free-standing and supplementing your décor.
Amana front-load washers are equipped with a full list of options that includes: ever spin vibration control system (regulates the drum during the laundering cycle, to reduce noise and vibration), Add-A-Garment function (pauses the cycles and allows to put in the forgotten clothes), multiple wash cycles, electronic control panel, rinse & spin option and much more. These appliances are Energy Star certified and use about 73% less water and approximately 76% less energy, in comparison with top-load models.
Front-load washers from Amana brand name are advanced, modern, well-designed, functional and reliable. They will provide you with convenient and flexible operation, and durable and quiet performance for a long period of time. Besides the company offers a 1-year limited warranty on parts and labor.