Hisense TVs
1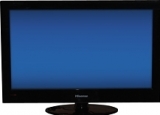 Not Available
Features:
HDTV
Contrast Ratio: 10,000:1
Maximum Resolution: 1920 x 1080
Aspect Ratio: 16:9
Type: LCD
Screen Size: 24 inch
Vertical Resolution: 1080p
Screen Refresh Rate: 60 Hz
(W) 23 x (H) 16.75 x (D) 6.75 in.
Learn More
Learn more about Hisense TVs
The Hisense Electric Company is a reliable and reputable manufacturer of home appliances based in China. Its line of HDTVs is in great demand all over the world due to the implementation of innovative television technologies. These are the, so called, intelligent features which turn simple TV viewing into a fascinating game. For example, it is possible to flip channels by clapping hands. The Hisense TV reviews show that such intelligent TV applications go down a storm with consumers.
No doubt, the Hisense TV set will be the best bang for fastidious customers as each person can enjoy a sharp crisp picture, an excellent sound, a very good contrast, and a user-friendly remote. Moreover, the prices do not leave much to be desired being absolutely reasonable. Among other advantages we should point out the fact that the Hisense TV sets are lighter in weight if compared with conventional ones through the usage of special plastic materials. There is a wide range of the Hisense TV models with different technical characteristics so that everybody can chose one in accordance with personal tastes and requirements. Modern design, fair prices, integrated advanced technologies, and continuous useful life rank the Hisense brand together with the international leaders in the market of TV manufacturers.