Westinghouse Refrigerators
1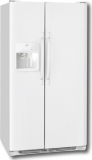 Not Available
Features:
Color: White
Door Color: White
Size: Full Size
Type: Freestanding
Style: Side-by-Side
Total Capacity: 26 cu. ft.
Colors: White
(W) 35.63 x (H) 69.38 x (D) 28.5 in.
Learn More
Learn more about Westinghouse Refrigerators
Westinghouse is part of Electrolux Corporation. It's one of the leading suppliers of home appliances in Australia and throughout the world. Its products correspond to all contemporary standards and are produced in attractive design with multiple innovations.
In this review we'll pay attention to Westinghouse refrigerators collection which offers all modern types of devices. Single-door units are made of stainless steel or come with white panels. They are equipped with environmentally friendly R600 refrigerant. Its capacity is 8.5 cu. ft. though if this device will come with freezer (bottom/top-mounted fridges) it will get additional 6.3 cu. ft. capacity for it. But there are larger units available with total of 18 cu. ft. They are equipped with wine and bottle rack, humidity-controlled crispers, adjustable shelves, egg tray and dairy compartment.
Side-by-side units can have water and ice dispenser. Their capacity varies between 21 and 26 cu. ft. These devices have different energy-saving modes (holiday, eco modes). They are totally frost free and possess quick freeze function. In addition, side-by-side appliances have storage utility drawers. There are around 20 positions for adjusting shelves and door bins, so you can accommodate all your products.
French door units also have the above-mentioned functions with extra convenience of pull-out drawer. They are spacious and user-friendly, as customer gets full control over the temperature level and various modes, by means of electronic control system.