Sanyo Refrigerators
1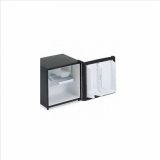 Not Available
Features:
Size: Compact
Total Capacity: 1.7 cu. ft.
(W) 20 x (H) 20 in.
Learn More
Learn more about Sanyo Refrigerators
Japanese home appliances manufacturers are widely-respected and trusted in the entire world. One of the most famous companies, producing refrigerators for residential and commercial purposes, is Sanyo. It manufactures counterhigh, compact, apartment size fridges and beverage coolers.
Standard devices are offered in 2 types: top-mounted freezer and one-door unit with ice compartment. Capacity may change from 5 cu. ft. to 10 cu. ft. Glass shelves and door bins are adjustable and can accommodate various sizes of utensils and bottles. There are crispers for vegetables and fruits. Some devices ensure less energy-consumption and are Energy Star certified.
Compact devices can be cube-shaped and mid-size with 1.7 cu. ft. and 2.5 cu. ft. capacity. They have elegant design and are offered in black, platinum and white colors. All of them have 2 shelves and 1 door bin; though the largest one comes with can dispenser.
Counter-high fridges offer capacity from 3.6 cu. ft. to 4.4 cu. ft. They are equipped with 3 shelves or 2 shelves and crispers for vegetables and fruits. Door bins have enough place for gallon bottles and also there can be compartment for cans. Each model is available in a variety of colors: white, black, stainless steel or walnut. Sanyo refrigerators, which are reviewed above, provide durable service and are available at really competitive prices.