Miele Refrigerators
1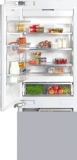 Not Available
Features:
Door Color: Panel Ready
Size: Full Size
Type: Built-In
Style: Bottom Freezer
Total Capacity: 14.86 cu. ft.
Energy Star
(W) 29.75 x (H) 83.5 x (D) 24 in.
Learn More
Learn more about Miele Refrigerators
Miele is a German brand, producing quality home appliances, represented in 46 countries around the world and possessing good reputation. Miele refrigerators receive positive reviews due to durability, style and innovations applied in its products.
MasterCool function helps to adjust four different temperature modes simultaneously in order to provide appropriate preservation for various food types. Humidity control contributes to maintaining necessary environment in the fridge. These features can be easily controlled from digital panel which is user-friendly. Halogen-based lighting provides perfect illumination even in the furthest corners of the device.
Drawers have full visibility and are made of proof materials. Drop and Lock system helps to adjust door bins upon your demand on its slide-rail frame. Dual compressor system provides fresh air circulation, but doesn't let odors to mix with each other between the fridge and freezer.
There are devices with top-mounted and bottom-mounted freezer as well as one-door units. Also there are free-standing and built-in units. Capacity of these fridges can range from 10 cu. ft. to 20 cu. ft. They are Energy Star certified and provide good operation, but low energy-consumption. German quality and numerous modern features make these devices luxury and stylish, appropriate for any interior.