Crosley Refrigerators
2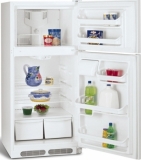 Not Available
Features:
Type: Freestanding
Style: Top Freezer
Total Capacity: 15 cu. ft.
(W) 28 x (H) 59.38 x (D) 31.13 in.
Learn More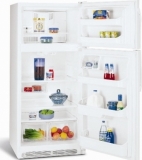 Not Available
Features:
Color: White
Door Color: White
Size: Full Size
Type: Freestanding
Style: Top Freezer
Total Capacity: 18.2 cu. ft.
Colors: White
(W) 29.63 x (H) 65.38 in.
Learn More
Learn more about Crosley Refrigerators
Crosley Corporation proposes a wide choice of home appliances for laundry and kitchen. For this company it is important to offer exclusive service to the customers, that's why you can come across its products only from official distributors. Crosley refrigerators have nice modern design and provide many functions which make them user-friendly. There are side-by-side, top-mount and bottom-freezer models.
Top-mount units have capacity from 14,8 cu. ft. to 20,5 cu. ft. They can have wire or glass shelves, humidity controlled sectors, various racks. Bottom-freezer devices are made of stainless steel, have digital temperature display, incandescent light. Some models have installed ice and water machine. Capacity of side-to-side devices varies from 23 cu. ft. to 26 cu. ft. They are highly efficient and will definitely save your monthly expenses. There are wire and glass shelves installed and large freezer section with capacity of 9 cu. ft.
The company provides its clients with exclusive offer, it is a 10-year limited warranty, which you can hardly find in any other brand. Customers' reviews on Crosley refrigerators state that these appliances are very efficient and operate quietly without disturbing anybody. They are spacious and you can keep so many different types of products inside and at the same time, thanks to filtering system, the smells will not mix and your food will be safe. Also option of making ice without even opening fridge is very convenient and most people are satisfied with their choice.