Jenn-Air Dual Fuel Ranges
1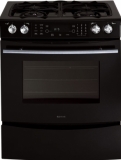 Not Available
Features:
Cooktop: Sealed Burner
Primary Oven Capacity: 4.5 cu. ft.
Style: Slide-In
Fuel Type: Dual Fuel
Burners: 4
Convection
Gas Type: Natural / Propane
Set 1 Output(Gas): 15000 BTU
(W) 30.75 x (H) 35.75 x (D) 26.19 in.
Learn More
Learn more about Jenn-Air Dual Fuel Ranges
There are a lot of advanced devices in the modern market of home appliances, including convection ovens, built-in microwaves and refrigerators, steam dryers, and many others. One product that is of great importance for customers is a kitchen stove. Manufactures all over the globe design and produce gas and electric top-quality range models whose feature packages are impressive.
Each particular type of fuel source has some advantages that are not common for the other one. Jenn-Air is one of a few brand names that combine all pros of both types in dual fuel stoves. It uses gas burners for cooktop surface since they provide centralized flame and thus heat pots faster than electric elements. Besides, gas units do not waste excess heat into the environment. But electric heaters are more powerful for use in ovens. They produce more even distribution of the heated air in the entire cabinetry. With electric oven you will able to create the optimal conditions for baking delicious pies and roasting perfectly brown meat.
In addition, dual fuel range reviews show that Jenn-Air gas burners let owners accurately vary flame from ultra low to ultra high temperature. Making it possible to use a few oven racks at the same time, manufacturer provides additional flexibility. So taking all the above mentioned advantages, Jenn-Air dual fuel range is worth your money.