Wolf Microwaves with Convection
1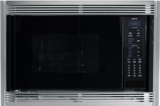 Not Available
Features:
Control Type: Sensor Touch
Convection
Type: Countertop
Capacity: 1.5 cu. ft.
Wattage: 900 Watts
Color: Black
(H) 14.88 x (W) 24.75 x (D) 20.13 in.
Learn More
Learn more about Wolf Microwaves with Convection
Convection microwave ovens successfully combines quick and convenience operation of a traditional microwave with advanced features and practicality of the convection one. There is a wide range of convection microwaves in the modern market and they allow you to warm up the leftovers, cook dishes and even bake cakes.
The leading manufacturer of luxury cooking appliances, Wolf, produces high-end convection microwave ovens, which offer much more in terms of kitchen design, in comparison with other brands. During the convection heating, hot air is circulated throughout the oven cabinet, what guarantees even cooking and crispy crust. Wolf convection microwave has classic stainless steel trim finish and it can be built-in or left free-standing. The unit comes with menu label, recipe guide, slow cook mode for up to four hours, easy-to-operate control panel with programmable power options and interactive display.
Wolf company offers professional household appliances for residential purposes and their convection microwave ovens prove that. These appliances are not just durable and powerful, but they are also very stylish, multifunctional and capacious. Advanced features of the device allow you to impress your family and guests with new dishes every day and still you will be able to save your time, entrusting the cooking process to your kitchen assistant, Wolf convection unit.