Panasonic Microwaves with Convection
1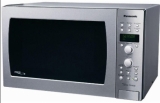 Not Available
Features:
Control Type: Electronic
Inverter
Convection
Type: Countertop
Capacity: 1.5 cu. ft.
Wattage: 1100 Watts
Color: Stainless Steel
(H) 12.88 x (W) 19.31 x (D) 14.81 in.
Learn More
Learn more about Panasonic Microwaves with Convection
Convection microwaves are advanced versions of standard units, but the main difference is that they cook quicker, than a regular one due to internal fans that circulate air. So a convection oven allows customers to cook, bake and roast much faster and easier, than ever before.
Panasonic introduces large convection microwaves for easy and effortless cooking of delicious food. Variety of functions makes them very convenient in usage so your dishes will always be perfect. These microwaves offer a large spectrum of options: convection bake combination and grilling options, large Cook Menu, Inverter Turbo Defrost and quick reheat, child lock, variable power levels and an easy-to-read LCD display. These units and options were developed to save your time and energy, so it is not a usual microwave; it is a smart assistant in your kitchen. Of course, Panasonic convection ovens have professional and smart design which will surely supplement every modern kitchen. They have capacities both for small and large families: 27 L. - 42 L. The devices are equipped by Inverter technology, which allows delivering true power and control during the whole microwave cooking process. These appliances come with 1 year warranty.