Cuisinart Microwaves with Convection
1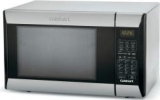 $208 - $232
3 sellers
Features:
Control Type: Electronic
Grill
Convection
Type: Countertop
Capacity: 1.2 cu. ft.
Wattage: 1000 Watts
Color: Stainless Steel
(H) 12.2 x (W) 21.2 x (D) 19 in.
Learn More
Pros:
Heats evenly,
Easy to clean
Cons:
Design flaw,
Poor customer service,
Poor built
Learn more about Cuisinart Microwaves with Convection
Cuisinart is an American brand, producing different kinds of kitchen appliances and accessories. It was founded in the USA in 1971 by Carl Sontheimer. During next years, brand became rather popular among the consumers in USA and Canada.
One of the products manufactured by Cuisinart is convection microwave oven that uses a fan to distribute air evenly inside the unit. It ensures more even browning of bakery and faster roasting.
Cuisinart convection microwave units are well-designed and rather capacious, some models come with 1.2 cubic feet capacity and they can accommodate even a turkey on Thanksgiving or duck on weekend. The company offers you a wide range of options to make the cooking process easier and more convenient. The control panel is designed to provide simple operation of most complex processes.
In addition this unit can be equipped with grill option and reversible grill rack. The company manufactures efficient units with 1000 watts power level, so the dishes are cooked or defrosted much faster, in comparison with other appliances in this category.
In Cuisinart microwave reviews the customers note that these devices come with such advanced and useful features like: two convenient defrost modes (by weight or time), nine preset options, automatic switch of operations (one after another), rotating 12" glass tray etc. They can be also equipped with such options, as LCD screen on control panel, recipe book and 3-year warranty.
Cuisinart convection microwaves are powerful and multifunctional appliances, which are developed to meet the demands and expectations of the consumers and modern competitive market.