Emerson Stainless Steel Microwaves
1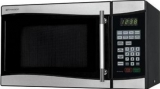 Not Available
Features:
Type: Countertop
Capacity: 0.8 cu. ft.
Wattage: 900 Watts
Color: Stainless Steel
(H) 11.38 x (W) 18.13 x (D) 14.81 in.
Learn More
Learn more about Emerson Stainless Steel Microwaves
Stainless steel home appliances are widely used in commercial purposes, for instance in restaurants, cafes or dining halls. They can provide you with multiple benefits, like durable performance, easy further maintenance and well-cooked tasty dishes. These units are a worthy investment and they will make your kitchen modern and stylish.
Emerson Radio Corporation produces a wide range of microwaves and they are among the greatest suppliers to the world market. The company offers several types of stainless steel ovens. Different styles and characteristics are available. You can choose appliances with LED display, digital clock, removable glass turntable for fast and even cooking, child-safe lock-out feature, 8 one-touch settings (popcorn, beverage, potato, pizza, frozen vegetable, soup, fresh vegetable, dinner plate), speed and defrost by weight, end of cooking signal, and grill function.
Emerson company produces high-quality, reliable and stylish solutions and stainless steel appliances are among them. These units will definitely go with any interior and become indispensable assistant in the kitchen. Due to stainless steel construction, microwaves will serve you for a long time and will make the cooking process easier and more convenient.