Kenmore Electric Dryers
2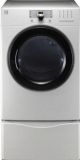 Not Available
Features:
Sensor Dry
Reversible Door
Type: Front Load
Fuel Type: Electric
Capacity: 7.3 cu. ft.
Color: White
(W) 27 x (H) 39 x (D) 29.9 in.
Learn More
Pros:
Convenient features,
Dries clothes fast,
Energy efficient
Cons:
Lacks features,
Poor customer service,
Wrinkles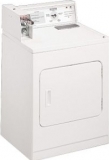 Not Available
Features:
Type: Front Load
Fuel Type: Electric
Capacity: 5.9 cu. ft.
(W) 29 x (H) 44 x (D) 25.5 in.
Learn More
Dryer
you are looking for.
Learn more about Kenmore Electric Dryers
Clothes dryers are the among the most common appliances, which are widely-used all over the globe. The appliances are available in two main types: gas and electric, but they still have a similar principle of work. Both types tumble clothes through the heated air in order to remove moisture. Electric models are more popular among the customers, due to their affordability and efficiency.
If you are thinking of purchasing an electric dryer, then you should definitely consider Kenmore series that, according to numerous reviews, is reasonably called the top-seller in the present market.
The line of Kenmore electric dryers includes over 20 models, with a wide capacity range (3.4 – 7.5 cu. ft.), large color palette (red, orange, bisque, metallic, white) and various high-end options. These units require 120 or 240 volt currency and they can come with or without a steam option (relaxes wrinkles and removes odors). A great variety of options, like: Express Dry (up to 30 minutes, depending on the load), Sanitize cycle (removes 99.9% of bacteria; beneficial for families with kids and for allergic people), lint filter, numerous cycles and Iron Ready option (slightly moistens clothes and simplifies ironing) can be found in Kenmore electric dryers. The list of features can differ from model to model and this fact should be taken into account during the selection.
Kenmore electric dryers offer the best capacity, which can suit small and large-sized families, innovative and high-end options, which save your time and energy, and durable performance, which will impress you.