Danby Portable Dishwashers
1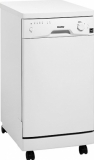 Not Available
Features:
Tub Height: Standard
Cycles: 6
Control Type: Knobs
Type: Portable
Capacity: 8 pl. s.
Noise Level: 55 dBA
Color: White
(W) 17.69 x (D) 26 x (H) 36 in.
Learn More
Pros:
Powerful,
Cleans well
Cons:
Time to wash,
Poor user manual,
Poorly designed interior
Learn more about Danby Portable Dishwashers
Danby is a company that has expanded from a family-owned manufacturer into a leader in the appliances market. The brand has achieved so great popularity in short time (only 65 years) due to the production of such high-quality devices as air conditioners, dehumidifiers, refrigerators, freezers, microwaves, washers, dishwashers and others.
According to the household appliance reviews, Danby portable dishwashers are in the greatest demand among the customers. These models can be placed in any corner of your apartment and don't take a lot of space. They are equipped with wheels and thus can be easily moved or even hidden after the wash. Most units come with 8 place setting capacity, durable stainless steel tub and spray arm, and user-friendly control panel. As all Danby devices, portable dishwashers are Energy Star® certified and supplemented with advanced functions. An integrated water-softener system and a rinse agent dispenser allow owners to get clean dishes in short time. Anti flooding system prevents the floor damage.
Using modern innovations, the brand has improved the sound insulation and made appliances operation virtually noiseless. So buying Danby dishwasher, you not only have the opportunity to get rid of cleaning dirty plates, pans and pots by hand, but also to get quiet and eco-friendly device.