Haier Countertop Dishwashers
1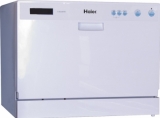 Not Available
Features:
Control Type: Digital
Cycles: 6
Type: Countertop
Capacity: 6 pl. s.
Noise Level: 48 dBA
Color: White
(W) 21.7 x (D) 21.7 x (H) 17.2 in.
Learn More
Learn more about Haier Countertop Dishwashers
Nowadays, Haier is the largest manufacturer of household appliances all over the world. This company has been actively involved in developing and improving modern technologies that manufacturers use for household appliances creation (over 400 international quality standards were developed by Haier). There are 20 design institutes and 10 industrial complexes in China, Europe and the United States that this manufacturer possesses. Recently this brand has increased its product range that includes more than 90 model lines.
Alongside with full size dishwashers, Haier produces countertop models that have a big popularity among people who wish to save free apartment space. Having a very compact design (with sizes 18.9"D×22.6"W×17.2"H, devices weight only 50 pounds), these units have the same performance that full size models manufacturers propose. Space-saving dishwashers have multi-position balanced doors, ultra-quiet operation, and three-level wash system. In addition, some models are packaged with Food Dispersal System, Dry Option, etc.
One more advantage that will be of great interest for parents is the ability to use high-temperature washing cycle (140 F) and Disinfection Option that eliminates most bacteria on the dishes surface. Haier dishwasher reviews show that most advanced models are also equipped with Auto Program that can automatically manage the washing and select the best parameters to provide owners with the optimal water and energy consumption and save their time.