Danby Countertop Dishwashers
2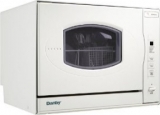 Not Available
Features:
Control Type: Digital
Type: Countertop
Capacity: 4 pl. s.
Learn More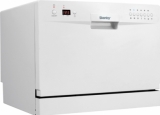 Not Available
Features:
Tub Height: Standard
Cycles: 6
Control Type: Digital
Type: Countertop
Capacity: 6 pl. s.
Noise Level: 55 dBA
Color: White
(W) 21.63 x (D) 19.69 x (H) 17.25 in.
Learn More
Learn more about Danby Countertop Dishwashers
Countertop dishwashers are designed for small families and people who don't have too much space in the kitchen. In such cases these models are indispensible devices for owners who believe washing dishes by hand is just a waste of time. Danby is one of the countertop dishwasher manufacturers that produces quality products well-known around the world.
The countertop models that the brand manufactures are the most efficient. Firstly, they have small sizes and thus consume water much less (only 10.4 L) than full-size models, saving electricity. Secondly, Danby countertop dishwashers match Energy Star requirements; it means that they are eco-friendly products. Finally, an economy wash cycle is available for owners to additionally reduce water consumption. According to the dishwasher reviews, Danby countertop models are reliably protected from flooding and differ with the quietest operation. Some models are also equipped with an overview window and have 4 or 6 place setting capacity.
What is more, these models are extremely convenient. Having easy connection with the sewerage and plumbing, countertop dishwashers can be used at any kitchen tap. Their lightweight (approximately 26 kg) design allows them to be easily moved. So efficiency, convenient usage, awesome cleaning performance, saving of space, quiet operation and attractive appearance are the key points that make Danby countertop dishwashers attractive for customers.