LG DVD Players Blu-Ray & DVD Players
2

Not Available
Features:
Type: DVD
Form Factor: Tabletop
Upscaling: Yes
Sound Output Mode: Stereo
(W) 16.9 x (D) 9.4 x (H) 1.4 in.
Learn More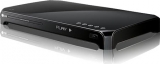 Not Available
Features:
Type: DVD
Form Factor: Tabletop
Upscaling: Yes (Up to 1080p)
Sound Output Mode: Stereo
(W) 11.1 x (D) 6.9 x (H) 1.6 in.
Learn More
Learn more about LG DVD Players Blu-Ray & DVD Players
One quality, that can be applied to all LG DVD players is that all of them are designed to be intuitive and responsive, energy efficient and thus more productive. When you get LG player, you know, that your share of lessening the impact on the environment has been donated. LG electronics produces two major types of DVD players – stationary and portable ones. Both types tend to keep you updated with the latest technological advances and the prices are quite attractive too. Working qualities are outstanding. A portable DVD player will keep you entertained during a long trip. And when you are at home, stationary player is going to make a perfect completion to your home theater. Most customers cherish LG players for their functions, according to the LG DVD players reviews. The list of features can vary, depending on a model, yet the general characteristics are: Audio/Video Outputs (speaker jacks), Component (RCA), Progressive Scan, USB Input, Playable Disc Formats (DVD-RW, DVD+R, CD-R), Playable File Formats (WMV, WMA, MPEG-4, DivX), Video Output System (NTSC, PAL). Some DVD players, manufactured by LG can play files of the MKV format and have external Hard Drive support. The ones, equipped with the HDMI input can transform video to full HD, which is quite pleasant. Those, who are fond of vocal entertainment, would appreciate the karaoke function in some models of LG players.
Another characteristic, that all LG DVD players have in common – is that no matter how many function a particular model has, you will get a complete understanding with all of them without stressing out. The most complicated is turned into the easiest for you by LG.