Insignia DVD Players Blu-Ray & DVD Players
2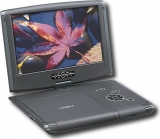 Not Available
Features:
Type: DVD
Form Factor: Portable
(W) 10.6 in.
Learn More

Not Available
Features:
Type: DVD
Form Factor: Tabletop
Sound Output Mode: Stereo
(W) 10.2 x (D) 8.9 x (H) 1.8 in.
Learn More
Learn more about Insignia DVD Players Blu-Ray & DVD Players
Insignia presents its DVD players. Whether you appreciate good-looking design, or technical "filling" or a smart buy, you are going to like the DVD players by Insignia. You can just relax and watch a nice movie or a show, look through your personal albums. It supports the following formats: DVD R, DVD RW, DVD, CD-R/RW, CD formats. To control your media kingdom from the coziness of your couch or an arm-chair, you can use a remote control. The reviews of Insignia DVD player's features point out an interesting technology, used in these devices. It is called progressive scan technology and it is purposed to ensure a seamless image in all depth of the details. This technology enables a DVD player to output video in a progressive scan format. There are also some advanced DVD players from Insignia, which are capable of outputting higher resolutions, they are called up-converting DVD players. Anyway, this progressive scan feature can be utilized, using a TV set or a display with the corresponding input. Such inputs can be found in most HDTVs, not so much on the SDTVs though. Among other features, the following can be singled out: Outputs include 1 composite video and 1 component video (rear), 1 analog stereo audio (rear) and 1 coaxial digital audio (rear). Owing to the fact, that Insignia products are mainly sold in the USA and Canada, the players of this brand can reproduce DVD discs, that correspond with the Region/Zone 1. DVD players are also equipped with antenna so if you want, you can easily listen to your favorite radio station.
Insignia has developed the line of DVD players for people, who appreciate comfort, stability and smart price. Indeed, it is nice to get an excellent quality at a good price.