Royal Sovereign Portable Air Conditioners
2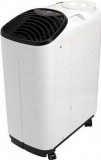 Not Available
Features:
Type: Portable
Cooling Capacity: 12000 BTU
Dehumidifier
Number of Indoor Units: 1
Air Flow: 185 CFM
(W) 11 x (D) 17.7 x (H) 25.6 in.
Learn More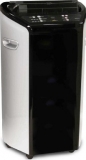 Not Available
Features:
Type: Portable
Cooling Capacity: 14000 BTU
Dehumidifier
Air Direction
Number of Indoor Units: 1
Air Flow: 194 CFM
(W) 17.1 x (D) 18.8 x (H) 33.4 in.
Learn More
Learn more about Royal Sovereign Portable Air Conditioners
Portable air conditioners have become an integral part of any home even if it's already equipped with a room AC. They are convenient, mobile, achieving result within a short period of time and very compact, so they don't disturb any interior design.
Royal Sovereign is one of American leaders in producing portable air conditioners and we are going to give a brief review of their characteristics and advantages. Appliances, manufactured by this company, are very reliable and functional and are quite costly, compared to other brands. You can choose a single-hose or dual-hose device, though latter provides quicker and more efficient cooling. Capacity may vary between 8000 and 14000 BTU. There are options of appliances with 2 and 3 fan speeds, but timer is 24-hour in all models. Power of air flow also ranges between 175 ft/min and 230 ft/min. Some units have heating option alongside with cooling and dehumidifying. Castors at the bottom of appliances add mobility but nevertheless we should mention that weight of a device can alter from 68 to 97 lbs, so if a woman chooses for herself she may select a lighter one. All conditioners have self-evaporative function, so you don't have to spend extra time and efforts on bucket cleaning.