Royal Sovereign Air Conditioners
2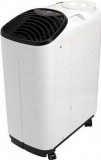 Not Available
Features:
Type: Portable
Cooling Capacity: 12000 BTU
Dehumidifier
Number of Indoor Units: 1
Air Flow: 185 CFM
(W) 11 x (D) 17.7 x (H) 25.6 in.
Learn More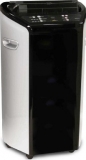 Not Available
Features:
Type: Portable
Cooling Capacity: 14000 BTU
Dehumidifier
Air Direction
Number of Indoor Units: 1
Air Flow: 194 CFM
(W) 17.1 x (D) 18.8 x (H) 33.4 in.
Learn More
Learn more about Royal Sovereign Air Conditioners
Royal Sovereign is an American brand which started its operation with manufacturing of electronic office appliances and has later on extended the scope of fabrication by producing coolers, heaters and dehumidifiers. These devices are created in contemporary design and different colors, so that they can fit any interior.
Company specializes in manufacturing portable air conditioners, which are very popular and user-friendly. Many of them have dehumidifying function and some models combine heating and cooling opportunities. They have different capacity (from 8000 to 14000 BTU) and can cover area from 200 sq.ft up to 500 sq.ft.; self-evaporating technology makes usage simple and convenient. Company provides 1 year warranty plus 5 years on compressor. Units are made of break-proof plastic or stainless steel, while inner parts are made of anti-corrosion iron. All these features provide long-term service. Removable and washable air filter makes air in your house always clean and fresh, simultaneously preventing bacteria gathering.
All models come with digital remote control which provides you with full control over the settings from any part of the room. Royal Sovereign is reviewed as a company providing great customer care, as it offers help of specialists at any time for any possible questions and problems and provides full information to make sure you will enjoy using the air conditioners, you have bought.